I've been a bit short of ideas for something to do for New Zealand Music Month this year. Last year I just put up You Tube links, but this year there seems to be quite a bit of paranoia (and, from what I've seen and heard, quite justifiable paranoia) about blogs being summarily nuked on the order of corporate lawyers for debatable (or even merely imagined) copyright reasons.
(You'd think that, one of these days, they'd figure out that the advertising value of actually getting their product out into the public eye would be worth a lot more to them than the bad publicity of stomping on the people who are actually buying copious quantities of their product and telling all their friends. But that would be too logical.)
I finally decided what I was going to do about mid last month when I got my hands on the list of "1001 albums you must hear before you die". It was an interesting enough read, but it suffered the same flaw as Simon Reynolds' book on the post-punk phenomenon: it concentrated almost exclusively on Britain and North America. (Both works also include Nick Cave and/or The Birthday Party as their token Australian content). The "1001 Albums" list did, however, include one Crowded House album, although not their most interesting work.
So, this month's content is going to be my attempt at filling this gap. Call it
"31 albums that I reckon would be worth a listen if you're keen on hearing new stuff"
.
Things are even more hectic than usual this month so I might miss out a few days, and I won't have time for decent reviews of the albums (although if anyone actually wants to know anything about them you can always leave a comment and ask). I'll include the vital stats. - artist, title, musicians, track listing - and You Tube shouldn't be too hard to find these days (personally, I've managed to figure out how to make the search bar in the top right hand side of the Firefox window include a You Tube search among its options) so if anyone wants to hear the actual songs, they can always go and hunt for videos.
Anyway on to the albums. No. 1: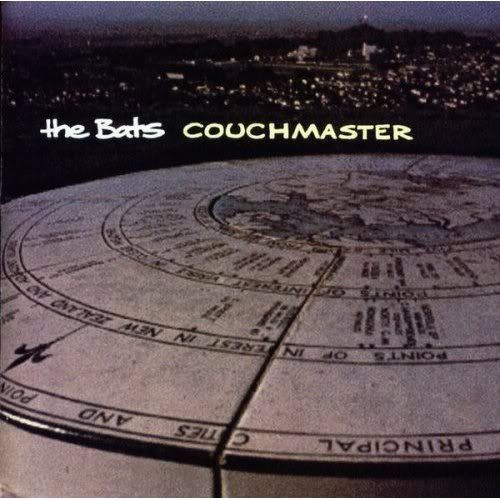 Artist: The Bats
Title: Couchmaster
Musicians: Robert Scott - vocals, guitars, keyboards, lamb; Kaye Woodward - guitars, vocals, keys; Paul Kean - bass, guitars, backing vocals, ukulele; Malcolm Grant - drums and percussion.
Guest musician: Crispin Vinnell - French horn.
Songs: Outside; Afternoon in bed; Around you like snow; Work it out; Train; Land 'o' lakes; Chain home low; Supernova; Shoeshine; Crow song; Smorgasbord; Knowledge is power; It's happening to you; Lost weekend; For the ride; Out of bounds; Down to me.