The second band in a row named after a late `seventies new-wave song.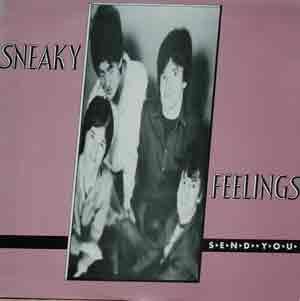 Artist: Sneaky Feelings
Title: Send You
Musicians: Matthew Bannister - guitars, vocals, organ; Martin Durrant - drums, vocals, synthesizer; David Pine - guitars, vocals, vibraphone; Kat Tyrie - basses, organ.
Songs: Waiting for Touchdown; Throwing Stones; Strangers Again; Someone Else's Eyes; Not to Take Sides; P.I.T. Song; Won't Change; Everything I Want; Not to Take Sides (reprise).
Musician credits may not be exact because they're taken from the CD which includes three tracks recorded many years later. Normally I'd include bonus tracks in an album listing, but two of them are fairly ordinary and the third is just horrible, so the part of this CD that is a great album is the original album alone.