I was going to try to avoid compilations (I'd rather have stuck to "proper" albums) but this one was too good to pass up.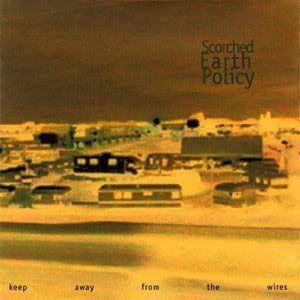 Artist: Scorched Earth Policy
Title: Keep Away From The Wires
Musicians: Andrew Dawson - vocals; Mary Heney - guitar, organ, vocals; Brian Crook - guitar, violin, vocals; Mick Elborado - bass, vocals; Andrea Cocks - organ, violin; Peter Stapleton - drums.
Guest musicians: Campbell McLay - bass; Ross Humphries - sax; Catherine Upson - backing vocals.
Songs: Green Cigar; Too Far Gone; Salivating; Arson; Sunset on the Loading Zone; Paralysed; Mekong Delta Blues; The Cult; Turn your Eyes Away; Tsetse Fly; Calcutta Rail; Johnny Frog; Maniacs; Since the Accident; Foaming Out; Lolita; Sunbaked; Batwing; It Came in A Can; Keep Away from the Wires; I'm not Like Everybody Else; Mekong Delta Blues.