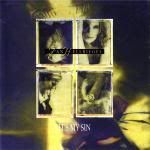 Artist: Jan Hellriegel
Title: It's My Sin
Musicians: Jan Hellriegel - vocals, backing vocals; Mark Peterson - guitar, backing vocals; Mark Bell - guitar, backing vocals; Wayne Bell - drums; Tony Lumsdon - bass, backing vocals.
Guest musicians: Zan Wright, Mikey Havoc, Rima Te Wiata, Pip Anderton - backing vocals; Steve Garden - drums; Sally-Ann Brown - cello; Stuart Pearce - keyboards; Roger Fox - trombone; Paul Cantell - alto sax; Greg Johnson - trumpet.
Songs: The Way I Feel; It's My Sin; Richmond Rd Revisited; I'm Alive; Viva Voca; Waves; Surprise; Jumping; Wings Of Steel; All The Best Thoughts; No Idea; Westy Gals.