This band seem to operate under a different name for every release, but referring to them as "Bill Direen and the Builders" shouldn't cause
too
much confusion. The album title also involves some creative typography that can't be reproduced in a normal character set.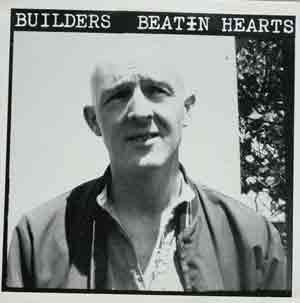 Artist: Builders
Title: Beatin Hearts
Musicians: Bill Direen - voice, guitar, percussion, whistle, organ, viola, bass, harmonica; Malcolm Grant - drums; Campbell McLay - bass.
Guest musicians: Chris Knox - organ, backing vocals; Mike Dooley - drums.
Songs: 1,000,000 Hearts; Moderation; Bedrock Bay; Same Old Story; Heartbeats-A-Go-Go; Blue Sand Lonely; Dirty & Disgusting; Alien; Accident; Wanganui With A White Face; Magpies; Outer Date World; Evidence; Inquest; Magazine; Kicks; Friend.