As usual, it's almost the end of the month and I've got far more music in reserve than I've got days left to show it in.
There's a lot of good stuff that's going to get missed out (not for quality reasons either) but I'd really like to feature some albums I've got on LP that have never been released on CD. These are all from the mid `eighties - old enough that they were around before CDs were widespread, but recent enough that they aren't yet being "rediscovered" and reissued as classics.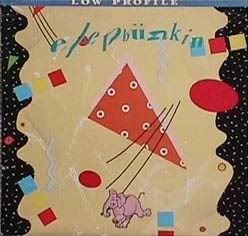 Artist: Low Profile
Title: Elephünkin'
Musicians: Steve Garden - drums, vocals; Lance McNicholl - guitar; Mike Farrell - guitar, backing vocals; Phil Bowering - percussion, bass, vocals, synthesizer; Percy Trotter - synthesizer; Stuart Pearce - synthesizer; Chris Neilson - trumpet, synthesizer.
Guest musicians: Chris Green - saxophone; David Woodbridge - trombone; Mike Russell - trumpet; Roger Sellers - percussion; Neville Hall - saxophone; Louise Loft - vocals; David Colven - saxophone; Annie Crummer - vocals; Debbie Harwood - vocals; Darlene Adair - vocals, backing vocals; Betty-Anne Monga - vocals; Geoff Keelan - acoustic guitar; Brian Smith - saxophone.
Songs: Elephünkin'; Simon Says; The Cutting Edge; Body Language; Heartbeat; Breathing Space; Simple Dreams; Through The Dark; Ice To Vapour; Arrival.